5 October 2020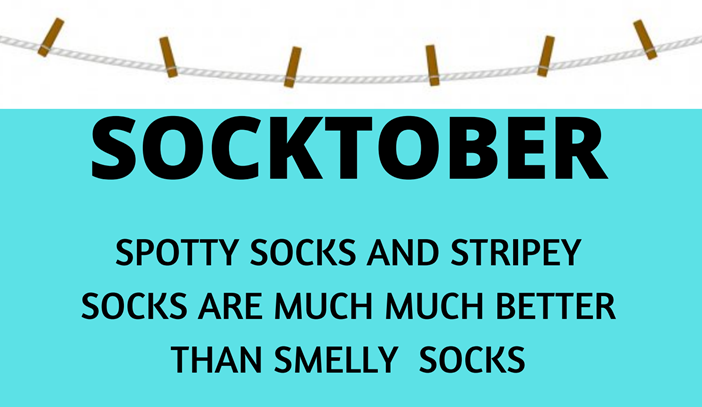 To everyone at Elliston Primary Academy
We are hoping you will help to support homeless and vulnerable people in North East Lincolnshire by taking part in SOCKTOBER!!
Never have we needed or been more grateful for our homes than during the last six months, imagine being homeless during this pandemic.
We would love for your school to put a shout out for new socks so that we can supply our service users with nice clean footwear.
School will be collecting new pairs of socks and donating them to Harbour Place.
A little bit about us:
We offer support to those at risk of becoming homeless and those that are without a place to call their own.
Whilst the night shelter, under Government guidance, has had to close we have continued to work closely to support our service users.
In the last two months we are pleased to be able to tell you that 6 homeless people have taken their first steps into accommodation.
We have two people who are now the proud owners of their own tenancies. One of these individuals is in his 60's, so this means he can spend the latter years of his life in safety and warmth without having to worry about where he will sleep tonight.
Four others have moved into temporary supported accommodation and with ongoing and additional support we are hopeful they will now break the previous cycle of revolving homelessness.
The local support and belief in Harbour Place is helping us to make inroads into the lives of many people. Unfortunately new people are still being referred to us but, together we can continue to move people into accommodation. We continue to support around 40 individuals who are in short term accommodation and we are also providing daily support to those who are street homeless. We are about to implement some alterations to our night shelter accommodation at the Hope Centre in the hope that Government will allow Night shelters to open for the winter.
From everyone at Harbour Place, thank you so much for your support
Socktober 2020